Music Download Store Tribute To All Time Greatest Politician
Y. S. Rajasekhar Reddy
Farewell Y.S.R!!...............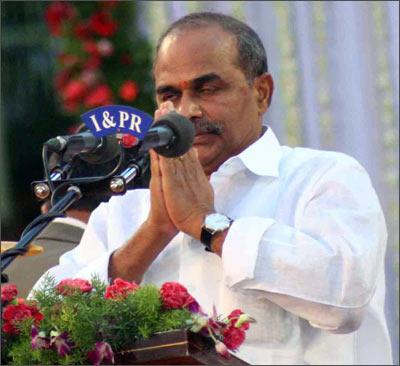 Click here to download
Y.S.R COMPLETE FUNERAL IMAGE GALLERY FROM HYD TO KUDAPA
YSR as NCC cadet (inset) and as a participant in a weight-lifting competition.
Andhra Pradesh's new chief minister was born on July 8, 1949. He comes from a small town in Cuddapah, which falls in the backward Rayalaseema region.
YSR had a ringside view of politics even as a child. His father Y S Raja Reddy, a popular leader, was known for his mercurial dynamism and dare-devilish temperament. YSR continued his father's legacy when he entered politics as a Congress youth leader.
He suffered a severe personal blow when his father was brutally murdered in a bomb attack in 1998. All 16 accused, who belonged to the rival Telugu Desam Party, were acquitted on April 12.
YSR with wife Vijayalakshmi and son Jaganmohan. Inset, with his granddaughter.
YSR's grandfather embraced Christianity years ago.
In an interview to rediff.com, YSR's mother Jayamma said her son occasionally fails to attend Sunday Mass. According to Jayamma, YSR says, 'Even these are God's people coming from far-away villages. How can I make them wait endlessly?'
YSR, who studied at the Jammalamadugu town mission hospital, was considered a 'good student'. After completing his schooling in St John's at Bellary, he went to Loyola College, Vijayawada. He received his MBBS degree from Gulbarga in Karnataka in 1972.
He married Vijayalakshmi in 1971; they have a son and a daughter.

YSR addresses a public rally soon after he became the state Congress chief.
YSR was first elected to the assembly in 1978.
In 1983, he was re-elected from Pulivendla, Cuddapah. Rajiv Gandhi appointed him state Congress president -- the youngest in Congress history.
The aggressive YSR has another side as well. He is a disciplinarian and is both health and hygiene conscious. He is also particular about yoga and meditation. A former sportsperson -- he was a weightlifter in his student days -- he firmly believes in the idiom, 'A sound soul in a sound body.'
He enjoys reading fiction in the little spare time he gets; his favourite author is Mario Puzo, who wrote the hugely popular bestseller The Godfather. Now, he often complains to friends that he finds it increasingly difficult to steal a few quiet moments to read.

YSR talks to children at his road show during the assembly election.
After successive defeats at the hustings in 1994 and 1999, the morale of the Congress party in Andhra Pradesh was at an all time low. YSR made it his mission to revitalise the party.
His missionary zeal could be the reason why he seen as a 'militant politician.' It's an epithet his mother cannot understand. In fact, when asked why people call him the 'Cuddapah Tiger', Jayamma says, "I don't know. His father was called a Tiger. My son is soft-spoken unless he is angry. He is frank and occasionally bursts out, but he never harbours a grudge against anyone."

YSR speaks at a public meeting in Karnavarapukota.
In order to touch base with the voters during the assembly election, YSR embarked on a jaitra yatra -- a 1,600-km padayatra -- in the intense heat of the Andhra summer. He used the opportunity to listen to the grievances of the people, especially the farmers, and blast Chief Minister N Chandrababu Naidu for making 'false promises.'
The response from the electorate was tremendous; it gave the Congress a new lease of life even as it showed the TDP the door.
YSR at one of the villages during the jaitra yatra.
The jaitra yatra was a strength-sapping challenge considering the fierce Andhra summer. But YSR was sure he could do it.
He is an early riser and uses the morning hours to prepare himself for the gruelling day ahead; he knows he will only be able to rest 16 or 17 hours later.
He believes the Telugu Desam paid the price for ignoring rural Andhra. He says his priority is the farmer and the common man. Unlike Naidu, he is said to shun power point presentations.

YSR chats with NRIs in New York.
YSR, who is known for his fiery speeches, is the state's most charismatic Congress leader. His advocate Sambasivaiah says, "He has the ability to get votes. He is very ambitious and has long-term plans. No one can do PR like him."
Some say he enjoys filmstar-like glamour, a quality he enhances with his astute use of the Telugu idiom.
At one of his recent public meetings, he had said he would take sanyas if the Congress lost this election.But the Congress' landslide victory has ensured the Cuddapah Tiger will roar again.
YSR Brief Profile

YSR, who served Andhra Pradesh twice as chief minister, started his political career around three decades ago. He was born to Y S Raja and Jayamma Reddy on July 8, 1949 in Pulivendula, a village in Andhra.

He was affable and good orator. He rendered yeoman services to the Congress and Andhra. Kadapa Constituency was his strong bastion. He reached to the ninth, tenth, eleventh and twelfth Lok Sabha from Kadapa for four terms.

YSR was a graduate in medical science from Gulbarga University. He did his House Surgeonship at SV Medical College, Tirupati, Andhra Pradesh.

Before starting his political career, he was elected as the leader of the House Surgeon's Association at SV Medical College.

He entered Andhra Pradesh assembly from the Pulivendula constituency and won for five terms. Assembly witnessed him rising from an MLA to the Chief Minister of the state.

He had taken out a three months long padyatra in 2003 across several districts in the AP. His party enjoyed a massive win in the next general and assembly elections held in 2004.

He had served as minister in Andhra Pradesh Government from 1980-1983 and held important portfolios, including Rural Development, Medical Health and Education.

His term as leader of the opposition in AP assembly would be remembered for raising issues of public interest. He had been leader of the opposition for five years.

YSR was President of the Andhra Pradesh Congress Committee (APCC) from 1983 to 1985 and from 1998 to 2000.

As the president of APCC, Reddy always stood by party workers and for the people of the state.

In 2004, he was elected Chief Minister of Andhra Pradesh after the party won 185 seats in the assembly elections. He initiated a variety of programmes for the people.

Jalayagnam, Arogya Shree, Pavala Vaddi, and several other programmes were started by him.

His slogan for the campaign for 2009 election was "Development and the credibility".

His campaign worked and Congress emerged victorious bagging 156 seats required for majority in the assembly. The congress also secured victory in 33 LS constituencies.

He was unanimously elected leader of Congress legislative party in Andhra and he took oath of office and secrecy for the term of 2009–2014 on 20 May 2009 in Hyderabad's Lal Bahadur Shastri Stadium.
For Live News